Agricultural Spray Nozzles
Application Specific Nozzles
Spray nozzles are the smallest and most overlooked piece of equipment on a spraying machine, but they have the greatest effect on the accuracy, efficiency, and drift potential of each application. Proper nozzle selection is key for increasing your efficacy. Our nozzles are highly engineered for a specific application type to give you the best results possible for each application.
To get the best chemical performance at the key spray timings, it is essential to choose the nozzle that gives good target coverage considering both the spray quality and a suitable incline.
Type your search here...
EN
GuardianAir Nozzle - 110° Air-induction Nozzles
---
FINER AIR-INDUCTION NOZZLES WITH SHALLOW REAR INCLINE
A proven drift-reducing option. Excellent spray coverage at 3 bar and 100 l/ha water. Slight rear incline helps direct spray downwards to leaves, stembases and weeds. GuardianAIR* air-induction nozzles combine the smallest droplet size with a shallow rear incline to offer excellent target coverage in a wide range of crop spraying applications. At 3 bar, spray performance is often equivalent to a medium flat fan spray. At lower pressures spray drift is reduced by up to 75% so the balance between spray coverage and drift reduction can be easily adjusted by the operator.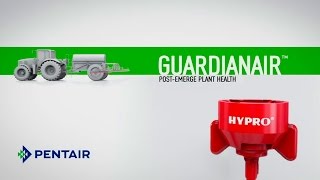 DOWNLOADS
---
GuardianAIR* TWIN - 110° Air-induction Nozzles
---
A TWIN FINER AIR-INDUCTION NOZZLE IN INTEGRAL FASTCAP*
Twin 30° forward and rearward inclines, based on the finer droplet spray quality of GuardianAIR . Ideal for ear sprays and penetrating into denser crop canopies. All the best things about efficiency, efficacy, and on-target coverage of the GuardianAIR, PLUS a twin spray pattern for the ultimate in coverage.
Dual fan 30° inclined spray patterns provide excellent coverage and canopy penetration for contact applications
Engineered to provide better coverage with more drops per gallon compared to other air-induced sprays
Dust is sealed out by the locking ring to reduce contamination of the nozzle when removing it from the sprayer
​​​​​​​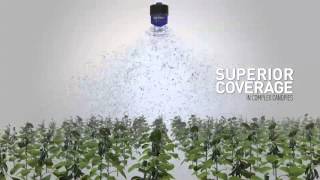 DOWNLOADS
---
Ultra Lo-Drift Nozzles 90% Drift Reduction
---
Significant reduction in drift from coarse air-filled droplets. Suitable for soil-active and translocated foliar sprays on larger targets. The Ultra Lo-Drift is the ideal spray nozzle for use where drift reduction is paramount. Ideal for use with pre-emergence and broad spectrum products.
Engineered for superior spray uniformity at all pressures (20-115 psi)

Patented Dual Air Inlet design for reduced drift in a smaller footprint

ISO standard colors and sizing ensure that the ULD fits all standard caps and TwinCap

Precision-molded in tough and durable polyacetal

Available as standard tip and as convenient FastCap for safer handling
​​​​​​​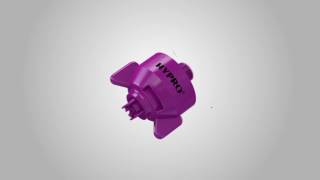 DOWNLOADS
---
3D 100° Nozzle
---
INCLINED ALL-PURPOSE NOZZLE FOR OPTIMUM SPRAY COVERAGE
An inclined spray that improves coverage of vertical targets such as soil clods and small grass weeds and gets spray into crop canopies. Eliminates the smallest droplets to reduce drift by 60-75%.
Designed in partnership with Syngenta using wind tunnel research and more than 10 years of agronomic field trials

Proven to deliver up to a 10% increase in pre-emerge weed control compared to a conventional flat fan (Syngenta UK Trials - 0.6 l/ha Liberator (diflufenican+ flufenacet) + 4 l/ha Defy (Prosulfacarb) applied November 2015)

Creates the optimum droplet size for coverage, fewer droplets bounce off or drift away

60-75% drift reduction compared to flat fan nozzles, achieving 2 Star LERAP rating at specific nozzle size/pressure combinations

Inclined spray is designed to be installed alternating forward and backward on boom to provide 3-dimensional coverage on vertical targets such as grass weeds, soil clods and broad leaved canopies

PWM compatible; Install 3D nozzles facing the same direction when using with PWM systems at less than 30 Hz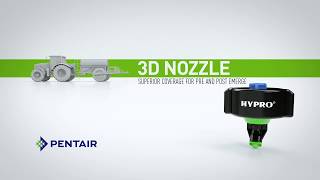 DOWNLOADS
---
ESI Liquid Fertiliser Nozzles
---
The ESI six stream nozzle is ideal for applying fertilizer into solid seeded crops. It creates six individual streams that distribute the fertilizer on the soil while getting less on the crop.
Ceramic metering orifice and low pressure distribution chamber provides superior stream stability for reduced atomization and prevention of leaf burn

Six streams distribute fertilizer more evenly than one single stream

Provides extremely course droplets improving fertilizer distribution
One of the most compact liquid fertiliser nozzles on the market. A unique jet array and stabilising diffuser creates 6 solid streams for excellent distribution of fertiliser and minimal crop scorch.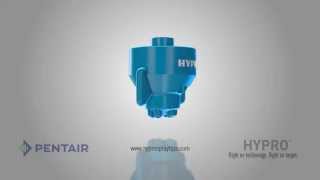 DOWNLOADS:
---
Lo-Drift 110˚ Nozzles
---
The Lo-Drift is the original drift-reducing tip, producing significantly less fine droplets than a standard flat fan.
Significantly reduces spray drift, widening the operational window

Balanced droplet size for effective, on-target spray

PWM system compatible
The original drift reducing nozzle that features a pre-orifice but no air induction.
Spray is typically coarser than a conventional flat fan nozzle producing half the drift.
Available in polyacetal or PVDF.

DOWNLOADS
---
---
DE
3D 100° Düse - DE
---
GENEIGTE ALLZWECKDÜSE FÜR OPTIMALE SPRÜHABDECKUNG Ein Schrägsprühstrahl, der die Abdeckung vertikaler Ziele wie Bodenklumpen und kleines Grasunkraut verbessert und den Sprühnebel in die Kronen von Nutzpflanzen bringt. Eliminiert die kleinsten Tröpfchen, um die Drift um 60-75% zu reduzieren. Entwickelt in Partnerschaft mit Syngenta unter Verwendung von Windkanalforschung und mehr als 10 Jahren agronomischer FeldversucheNachweislich bis zu 10 % mehr Unkrautbekämpfung im Vergleich zu einem herkömmlichen Flachventilator (Versuche von Syngenta in Grossbritannien - 0,6 l/ha Liberator (Diflufenican+ Flufenacet) + 4 l/ha Defy (Prosulfacarb), angewandt im November 2015) Erzeugt die optimale Tröpfchengröße für die Abdeckung, weniger Tröpfchen prallen ab oder driften weg60-75% Driftreduzierung im Vergleich zu Flachstrahldüsen, wodurch bei bestimmten Düsengrößen-/Druckkombinationen eine 2-Sterne-LERAP-Bewertung erreicht wirdDie Schrägspritzung ist so konzipiert, dass sie abwechselnd vorwärts und rückwärts am Ausleger installiert werden kann, um eine 3-dimensionale Abdeckung vertikaler Ziele wie Grasunkraut, Bodenschollen und breitblättrige Überdachungen zu gewährleisten. PWM-kompatibel; Installieren Sie 3D-Düsen, die bei Verwendung mit PWM-Systemen bei weniger als 30 Hz in die gleiche Richtung weisen
---
GuardianAir Nozzle - 110° Luftansaugdüsen - DE
---
FEINERE LUFTEINLASSDÜSEN MIT GERINGER NEIGUNG NACH HINTEN Eine bewährte driftreduzierende Option.Ausgezeichnete Spritzleistung bei 3 bar und 100 l/ha Wasser. Eine leichte Neigung nach hinten hilft, den Sprühstrahl nach unten auf Blätter, Stängel und Unkraut zu richten. GuardianAIR* Lufteinlassdüsen kombinieren kleinste Tröpfchengröße mit einer geringen Neigung der Rückseite und bieten so eine hervorragende Zielabdeckung bei einer Vielzahl von Pflanzenschutzanwendungen. Bei 3 bar entspricht die Sprühleistung oft einem mittelflachen Fächerspray. Bei niedrigerem Druck wird die Sprühdrift um bis zu 75 % reduziert, so dass das Gleichgewicht zwischen Sprühabdeckung und Abdriftreduzierung vom Bediener leicht eingestellt werden kann.
---
GuardianAIR* TWIN - 110° Luftansaugdüsen - DE
---
EINE DOPPELTE FEINERE LUFTEINLASSDÜSE IN INTEGRIERTER SCHNELLVERSCHLUSSDÜSE*.
Zwei Neigungen von 30° nach vorne und hinten, basierend auf der feineren Tröpfchensprühqualität von GuardianAIR . Ideal für Ährensprays und zum Eindringen in dichtere Kulturschirme.
Das Beste an Effizienz, Wirksamkeit und zielgerichteter Abdeckung des GuardianAIR, PLUS ein doppeltes Sprühbild für die ultimative Abdeckung.
Doppellüfter mit 30° geneigten Sprühbildern bieten eine ausgezeichnete Abdeckung und Haubendurchdringung bei Kontaktanwendungen.
Entwickelt für eine bessere Abdeckung mit mehr Tropfen pro Gallone im Vergleich zu anderen luftinduzierten Sprays.
Staub wird durch den Verschlussring abgedichtet, um die Verschmutzung der Düse beim Herausnehmen aus dem Sprühgerät zu reduzieren
---
Ultra Lo-Drift-Düsen 90% Driftreduzierung - DE
---
Signifikante Reduzierung der Drift von groben, luftgefüllten Tröpfchen. Geeignet für bodenaktive und translozierte Blattsprays auf größere Ziele. Die Ultra Lo-Drift ist die ideale Sprühdüse für Anwendungen, bei denen die Reduzierung der Abdrift von größter Bedeutung ist. Ideal für die Verwendung mit Produkten vor Pflanzenaufgang und Breitspektrumprodukten.
Entwickelt für hervorragende Sprühgleichmäßigkeit bei allen Drücken (20-115 psi)
Patentiertes Design mit zwei Lufteinlässen für reduzierte Drift bei geringerem Platzbedarf
ISO-Standardfarben und -Größen stellen sicher, dass das ULD für alle Standardkappen und TwinCap
Präzisionsgegossen aus zähem und haltbarem Polyacetal
Erhältlich als Standardspitze und als praktische FastCap für eine sicherere Handhabun
---
Lo-Drift 110˚ Düsen - DE
---
Die Lo-Drift ist die ursprüngliche driftreduzierende Spitze, die deutlich weniger feine Tröpfchen erzeugt als ein Standard-Flachgebläse.
Reduziert die Sprühdrift erheblich, wodurch sich das Betriebsfenster vergrößert
Ausgewogene Tröpfchengröße für effektives, zielgerichtetes Sprühen
PWM-System kompatibel
Die ursprüngliche Drift reduzierende Düse, die eine Voröffnung, aber keinen Lufteinlass aufweist. Der Sprühnebel ist in der Regel gröber als eine herkömmliche Flachstrahldüse und erzeugt die Hälfte des Drifts. Erhältlich in Polyacetal oder PVDF.
---
ESI Flüssigdüngerdüsen - DE
---
Die Sechsstrahldüse ESI ist ideal für die Ausbringung von Dünger in fest gesäte Pflanzen. Sie erzeugt sechs einzelne Ströme, die den Dünger auf dem Boden verteilen und gleichzeitig die Pflanzen weniger belasten.
Keramische Dosierblende und Niederdruck-Verteilerkammer bieten eine überlegene Stromstabilität für reduzierte Zerstäubung und Verhinderung von Blattverbrennung.
Sechs Ströme verteilen den Dünger gleichmässiger als ein einzelner Strom.
Bietet extrem kurvenreiche Tröpfchen zur Verbesserung der Düngerverteilung.
Eine der kompaktesten Flüssigdüngerdüsen auf dem Markt.
Ein einzigartiges Strahlbündel und ein stabilisierender Diffusor erzeugen 6 Feststoffstrahlen für eine ausgezeichnete Verteilung des Düngers und minimale Anvulkanisierung des Ernteguts.
---
---
FR
Buse 3D à 100° - FR
---
BUSE POLYVALENTE INCLINÉE POUR UN ANGLE OPTIMAL DE PULVÉRISATION
Un jet incliné qui améliore la couverture des cibles verticales, telles que les mottes de terre et les petites mauvaises herbes, et qui est pulvérisé dans le couvert des cultures. La buse élimine les plus petites gouttelettes pour réduire la dérive de 60 à 75 %..
Conçue en partenariat avec Syngenta grâce à des recherches en soufflerie et à plus de 10 ans d'essais agronomiques sur le terrain
Elle permet une augmentation de 10 % du désherbage en pré-émergence par rapport à un jet plat classique (essais Syngenta UK Trials - 0,6 l/ha Liberator (diflufénican + flufenacet) + 4 l/ha de Defy (Prosulfacarb) appliqués en novembre 2015)
Elle crée la taille de gouttelettes optimale pour la couverture (moins de gouttelettes rebondissent ou dérivent)
Réduction de la dérive de 60 à 75 % par rapport aux buses à jet plat, ce qui permet d'obtenir un indice LERAP de 2 étoiles pour des combinaisons spécifiques de taille et de pression des buses
La pulvérisation inclinée est conçue pour être installée alternativement en avant et en arrière sur la rampe afin de fournir une couverture tridimensionnelle sur des cibles verticales telles que les herbes, les mottes de terre et les couverts végétaux à larges feuilles

Compatible avec les systèmes PWM ; installez les buses 3D dans le même sens lors de l'utilisation avec des systèmes PWM à moins de 30 Hz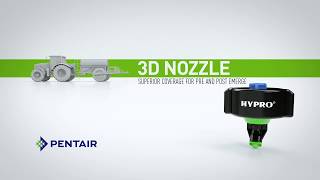 TÉLÉCHARGEMENTS
---
Buse GuardianAIR - Buses à induction d'air à 110° - FR
---
BUSES À INDUCTION D'AIR FINES AVEC INCLINAISON ARRIÈRE PEU PROFONDE
Une option éprouvée de réduction de la dérive. Excellente couverture de pulvérisation à 3 bar et 100 l/ha d'eau. Une légère inclinaison vers l'arrière permet de diriger la pulvérisation vers les feuilles, la base des tiges et les mauvaises herbes. Les buses à induction d'air GuardianAIR* associent la plus petite taille de gouttelettes à une inclinaison arrière peu profonde pour offrir une excellente couverture de cible dans une large gamme d'applications de pulvérisation des cultures. À 3 bar, les performances de pulvérisation sont souvent équivalentes à celles d'un pulvérisateur à jet plat moyen. À des pressions plus faibles, la dérive de pulvérisation est réduite de 75 %, ce qui permet à l'opérateur de régler facilement l'équilibre entre la couverture de pulvérisation et la réduction de la dérive.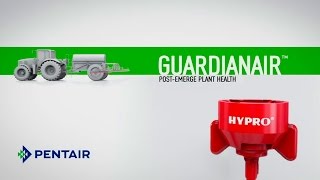 TÉLÉCHARGEMENTS
---
Buses à induction d'air à 110° GuardianAIR* TWIN - FR
---
UNE DOUBLE BUSE À INDUCTION D'AIR FINE INTÉGRÉE AU DISPOSITIF FASTCAP*
Double inclinaison de 30° vers l'avant et vers l'arrière, basée sur la qualité de pulvérisation de gouttelettes plus fines de GuardianAIR. Idéale pour les pulvérisations dans les oreilles et pour pénétrer dans les couverts végétaux plus denses. Tout ce qu'il y a de mieux en matière d'efficacité, de rendement et de couverture de la cible avec GuardianAIR, PLUS une double répartition de pulvérisation pour une couverture optimale.
La double rampe de pulvérisation inclinée à 30° offre une excellente couverture et une excellente pénétration dans le couvert végétal pour les applications de contact.
Conçue pour offrir une meilleure couverture avec plus de gouttes par litre par rapport aux autres pulvérisations à induction d'air
La poussière est bloquée par la bague d'étanchéité afin de réduire la contamination de la buse lors de son retrait du pulvérisateur
​​​​​​​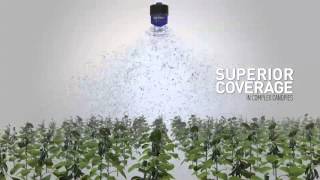 TÉLÉCHARGEMENTS
---
Buses de réduction de la dérive à 90 % Ultra Lo-Drift - FR
---
Réduction significative de la dérive des gouttelettes grossières remplies d'air. Convient aux pulvérisations foliaires actives sur le sol et aux pulvérisations foliaires transloquées sur des cibles plus grandes. La buse Ultra Lo-Drift est la buse de pulvérisation idéale pour une utilisation où la réduction de la dérive est essentielle. Idéale pour une utilisation avec les produits de pré-émergence et à large spectre.
Conçue pour une uniformité de pulvérisation supérieure à toutes les pressions (20-115 psi)
Conception brevetée à double admission d'air pour une dérive réduite dans un encombrement réduit
Les couleurs et la taille standard ISO garantissent que l'ULD convient à tous les capuchons standard ainsi qu'aux TwinCap
Moulé avec précision en polyacétal résistant et durable
Disponible sous forme d'embout standard et de FastCap pratique pour une manipulation plus sûre
​​​​​​​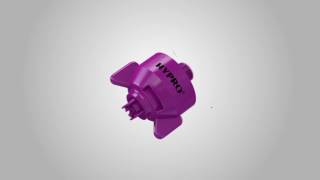 TÉLÉCHARGEMENTS
---
Buses 110° à dérive ultrafaible Lo-Drift - FR
---
L'embout Lo-Drift (dérive ultrafaible) est la pointe originale de réduction de la dérive, produisant des gouttelettes nettement moins fines qu'un jet plat standard.
Elle réduit considérablement la dérive de pulvérisation, élargissant la fenêtre de fonctionnement
Taille de gouttelette équilibrée pour une pulvérisation efficace sur la cible
Compatible avec les systèmes PWM
La buse originale de réduction de la dérive comporte un pré-orifice mais pas d'induction d'air.
Le jet est généralement plus grossier qu'une buse à jet plat classique, ce qui réduit la dérive de moitié.
Disponible en polyacétal ou PVDF.

TÉLÉCHARGEMENTS
---
Buses d'engrais liquide ESI - FR
---
La buse à six jets ESI est idéale pour l'application d'engrais dans les cultures à semences solides. Elle crée six jets individuels qui distribuent l'engrais sur le sol tout en réduisant la quantité pulvérisée sur la récolte.
L'orifice de dosage en céramique et la chambre de distribution à basse pression assurent une stabilité supérieure du débit pour réduire l'atomisation et prévenir la brûlure des feuilles.
Les six jets permettent de distribuer l'engrais plus uniformément qu'avec un seul jet
Produit des gouttelettes très grossières qui améliorent la distribution de l'engrais
L'une des buses d'engrais liquide les plus compactes du marché. Un ensemble de jets unique et un diffuseur stabilisateur créent 6 jets solides pour une excellente distribution de l'engrais et un minimum de brûlures des cultures.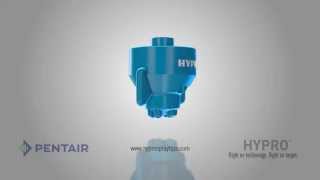 TÉLÉCHARGEMENTS:
---
---
RU
---
IT
---
Need Information?
+44 (0) 1954 260097
Can´t find what you are looking for? Contact us here.